Four Dots - Connecting the Dots of your Inbound Marketing Strategy
Struggling to increase your traffic? Wouldn't you like to have better search engine rankings or higher conversion rates?
In the world of digital business, nothing is more valuable than having a large audience. No matter how good your web page is, if it is not driving enough targeted traffic - it's basically worthless. This is why everyone who has invested some effort into building a website has only two things in mind - increasing its traffic and maximizing its business potential.
We can help you with that!
Four Dots is a digital marketing company dedicated to helping small to medium sized businesses attract more customers by maximizing their online exposure.
We specialize in creating a steady stream of new visitors (i.e. potential customers) for our clients; as well as as optimizing all the necessary components of your web presence so that your business can grow on daily, weekly and monthly bases.
ABOUT US
Four Dots proudly employs 51 SEO experts, content strategists, writers, and technical SEOs who work day and night on improving our clients' online exposure from our offices in Boston, MA, New York, NY and Novi Sad, Serbia. MEET US
Currently we work with over 200 businesses. The diversity of our team members allows us to offer SEO consulting and optimization services in no less than four languages (English, French, German and Serbian).
TESTIMONIALS ---
SOME OF OUR CLIENTS




You want to turn your leads into sales?
Leave it to us!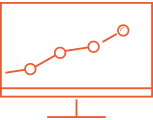 You need to bulk up your website?
We'll help you do it!

You crave to make your webpage a better industry resource than Google?
No problem! We're on it!
Four Dots offers the following set of services to help you make your webpage a
real force on the Internet:
What
sets us
apart?
Aside from a highly professional and dedicated team of inbound marketing experts and lecturers who are constantly keeping stride with the ever-changing industry, what makes us interesting to most serious small and medium sized business out there is the fact that we don't believe in cookie cutter approach to new campaigns.
Likewise, there are no lock in contracts; we can cooperate for as long as you are getting the desired results. If there comes a time when you no longer need our services (for instance, if our SEO strategy has got you firmly cemented on the first page of SERPs) it is easy to opt out, just like it is to put a hold on our collaboration and resume it at a later date.
We don't offer predefined service packages, but instead invest a great amount of time and energy in creating new tailor made campaigns that will suit a specific client's requests, goals and budget.
We never employ black hat methods. Instead, we rely on our in-house tools Dibz, Reportz & Base, value driven tactics and do our best to provide our clients with long term results keeping them safe from penalization.
Why this Matters for Your business
The return on investment (ROI) on properly done digital marketing campaign is higher than with any other form of advertising. It involves strategies designed to precisely measure consumer engagement and give brands the opportunity to make all sorts of different conversions on various types of channels.
You Set Your Goals
WE HELP YOU
ACHIEVE THEM
Contact us now and we'll start working right away on taking your online presence to a whole new level!
---
The
insight
latest
from the blog
Text Will Always Be Important for Everyone Who Searches the Web
---
For years now, I have been listening to numerous digital marketing experts preach about the end of written content as we know it. They think its days are pretty much numbered. Even though the entire Web is basically built on it, more than a few experts believe that sooner or later, video is going to […]
(read more)
The Death of SEO: A Hypothesis
---
While some discuss if near the other graves Be room enough for this, and when a day Suits best for carrying the corpse away, With care about the banners, scarves and staves, And still the man hears all, and only craves He may not shame such tender love and stay. "Childe Roland to the Dark […]
(read more)