Your New York City SEO Company
Four Dots - Connecting the Dots of your Inbound Marketing Strategy
Struggling to increase your traffic? Wouldn't you like to have better search engine rankings or higher conversion rates?
Staying ahead of your competitors in this jam-packed online world is quite a challenging endeavor. Regardless of the quality of your website, if it is not driving enough targeted traffic – it's basically worthless. For this reason, everyone who has invested some effort into building a website focuses on two main things – increasing its traffic and maximizing its business potential.
We are here to help you!
Four Dots is a New York SEO agency which directs its attention towards helping small to medium-sized businesses maximize their online exposure and attract a wider audience.
We are here to do all the heavy lifting and help your business ensure a steady organic growth while you focus on what matters the most – your customers.
ABOUT US
Four Dots prides itself in employing more than 60 SEO experts, content strategists, technical SEOs and writers who deliver creative strategies, tactics and approaches that will help you grow your business' online exposure in New York, Serbia and Australia. MEET US
At the moment, we collaborate with more than 200 clients from all around the world. Owing to the diversity of our NYC SEO team, we offer consulting and search engine optimization services in four languages (English, German and French).
TESTIMONIALS ---
SOME OF OUR CLIENTS




You want to turn your leads into sales?
Leave it to us!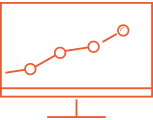 You need to bulk up your website?
We'll help you do it!

You crave to make your webpage a better industry resource than Google?
No problem! We're on it!
Four Dots offers the following set of services to help you make your webpage a
real force on the Internet:
What
sets us
apart?
With change being the only constant in the digital world, we put emphasis on the continual education of our team of inbound marketing experts in order to ensure they are familiar with the latest industry trends. Thanks to our years of experience, we have managed to design quality in-house tools – Dibz, Reportz and Base, which allow us to deliver first-class SEO services to our clients in New York and through the whole USA.
What makes us one of the best SEO agency in New York is the fact that we steer away from any black hat methods. Instead, we are putting our best foot forward and rely only on value-driven tactics which deliver long-lasting, top quality results, keeping you safe from penalization.
As one of the best NYC SEO companies, we don't believe in cookie cutter approach to new campaigns. There are no predefined SEO packages – we invest a lot of time and effort into designing a tailor-made inbound strategy to suit your individual requirements, goals and budget.
We here at Four Dots do not lock you in any contracts – we can work together for as long as you are getting desired SEO results. If at a certain point you feel like your SEO strategy has got you firmly cemented on the first page of SERPs, we can easily put a hold on our collaboration and resume it later in the future.
Why this Matters for Your business
With more than 80% of people conducting online research before purchasing a product or hiring a service provider, it is evident that digital marketing represents the most important form of advertising.

We are the most reliable New York SEO firm you can find and our strategies are specially designed to provide SMB's and brands with the opportunity to make conversions on different channels.
You Set Your Goals
WE HELP YOU
ACHIEVE THEM
Contact us now and we'll start working right away on taking your online presence to a whole new level!
---
The
insight
latest
from the blog
Reportz: Create Better, Insightful Marketing Reports with Our Latest Tool
---
Quality client reporting is critical for customer satisfaction and retention. It's the only thing that can ensure successful communication between all involved parties and shine a light on what has been done so far and what needs to be done in order to improve a client's business on numerous different levels. These concise, data-driven documents […]
(read more)
Climbing Back to The Top After a Drop in Rankings
---
SEO is a complex game that can turn your life upside down overnight. It doesn't really matter how diligently you work on your brand and traffic online – your site could still end up in the gutter.  And by the gutter, I mean Page 2 of Google's search results, which is basically a ghost town […]
(read more)
Why Invest in SEO and How SEO Agencies Advertise their Clients?
---
SEO is now something that interests many businesses from diametrically different niches and industries. And the reason for it is? Intelligent traffic, of course. Search is still the best channel for getting the right type of audience to visit your site.  Search Engine Journal says that search still beats social media as the no.1 traffic […]
(read more)